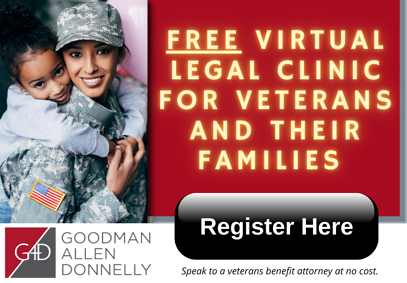 With continuing dedication to serving our country's Veterans, our team holds free legal clinics for Veterans and their families to answer questions about the claims process and benefits available.
The virtual clinics are free to attend and are conducted by our experienced veterans benefits attorneys via Zoom so we can safely provide consultations during the COVID pandemic.
Join us from noon to 6 p.m. on Wednesday, May 4, 2022 to have your questions answered. These sessions are on a first come, first serve basis.
The clinics are open to all Veterans, including those with questions about:
Exposure to hazardous chemicals and materials during military service, such as contaminated water at Camp Lejeune, Agent Orange and other herbicides used during the war in Vietnam
Women's issues related to service  (a female attorney will be available upon request)
How to obtain VA benefits or appeal a VA decision
Veterans or family members who have more general questions about veterans benefits are also encouraged to schedule an appointment
Our team at Goodman Allen Donnelly includes attorneys Dan Krasnegor, Nancy Foti, Andy Miller, Keenan Danehey and Sydney Kotalik. Our Veterans Benefit Group has assisted over 2,000 Veterans and their families with navigating the benefits maze, and with seeking unemployability benefits, non-service-connected pensions, increased ratings, earlier effective dates, survivor's benefits, education and home loan benefits, and more.
The team serves Veterans at all stages of the claims process, from the Regional Office to the Board of Veterans' Appeals to the Court of Appeals for Veterans Claims.
Again, there is no fee and no obligation to attend one of our free clinics. Individuals must pre-register for an appointment. Please use the link below and provide your contact information and one of our staff members will reach out to you promptly to schedule an zoom meeting.
We look forward to giving back to the heroes who have given so much for our country.
Click here to register today.