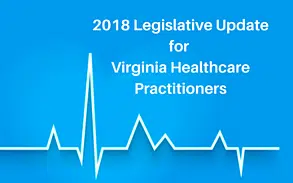 by Nora Ciancio
Both the House of Delegates and the Senate have introduced a number of healthcare bills in the 2018 session that if passed into law, will greatly affect health care professionals  not only in the treatment of their patients, but  also in their relationships with insurance carriers and the Department of Health Professions. Several proposed bills that should be on the radar of every practitioner in the Commonwealth of Virginia:
Prescribing
HB 333:  Passage of HB 333 will allow for practitioners to prescribe opioids for the purpose of managing pain associated with cancer for more than 7-days without requesting information from the PMP.
HB 974:  The passage of HB 974 would allow individuals in the Commonwealth to possess marijuana or THC for any terminal or debilitating medical conditions pursuant to a valid written certificate issued by a licensed health care professional. Physicians and pharmacists would be allowed to distribute these cannabis products without being subject to prosecution. Given the recent passage of SB 726 (which allows for  physicians  in the Commonwealth to  recommend the use of  cannabidiol oil or THC-A oil for treatment)  in the Senate on February 6th, and its companion Bill HB 1251 in the House on February 2nd, HB 974 is certainly one to watch.
HB 1064:  HB 1064 goes even slightly further than HB 974, granting an allowance to individuals to possess marijuana or THC for any medical condition pursuant to an appropriate certificate. Introduced by Delegate Heretick, the bill has been referred to the Committee for Courts of Justice.
HB 1173/SB 632:  These bills both propose to eliminate the opioid prescribing exception that currently dictates that practitioners do not have to query the Prescription Monitoring Program (PMP) for opioid prescriptions issued for up to 14 days for treatment for surgical or invasive procedures. Under the new bill, practitioners will need to check the PMP more frequently when treating for surgical or invasive procedures. HB 1173 has already passed the House with a vote of 99-Yes, 0-No. SB 632 passed the Senate 39-Yes, 0-No.
Changes to Prior Authorization
SB 731: A bill involving prior authorization policy, SB 731 aims to increase protection for participating providers in contracts with insurance carriers that require prior authorization for surgical procedures and drug benefits by specifying provisions that must be included in the contracts. The provisions will prohibit carriers from retracting approval or from refusing to pay claims submitted once approval has already been granted. Additionally, the bill exempts prior authorization for drug benefits in instances where 90% or more of the prior authorization requests from the provider have been approved within the last 12 months. Generic drugs will also be exempt from prior authorization. Though this bill has already been continued to the 2019 Session, it may be one to watch next year.
Scope of Practice
 HB 793: The proposed language of HB 793 eliminates the requirement for Nurse Practitioners who have completed 1,040 hours of clinical experience to enter into practice agreements.  NPs will also be able to serve as the "collaborating provider" for less experienced NPs who have not yet met the clinical hour requirement.
SB 511: SB 511 broadens the scope of practice for optometrists to include the evaluation, examination, diagnosis, and treatment of abnormal conditions of the human eye and its adnexa through the use of medically recognized and appropriate devices, procedures, or technologies. The bill, however, specifies that the scope of practice still cannot  include any treatment by laser surgery , most treatment by surgery,  or the use of injections (except for certain injections by TPA-certified optometrists and for intramuscular epinephrine injections for the treatment of anaphylactic shock). The bill has already passed in the Senate.
Authority of DHP
HB 1114: This bill grants authority to the Department of Health Professions to suspend or revoke the certificates, registration or licenses of any health professionals who is in default or delinquent in the payment of state or federal educational loans. The bill passed in the House on February 5th.
HB 1071: Already passed in the House, HB 1071 grants authority to the Board of Medicine, the Board of Nursing, and the Board of Funeral Directors and Embalmers to send notices for license renewals electronically.
---
This blog is made available by Goodman Allen Donnelly for general information, and does not constitute legal advice. By reading this blog, you understand that there is no attorney-client relationship between you and the firm. This blog should not be used as a substitute for competent legal advice from a licensed professional attorney in your state.