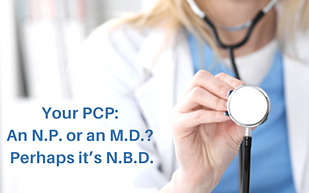 The last time you went to the doctor, did you actually see the doctor? A nurse practitioner (NP) is an advanced practice registered nurse who works in collaboration with a team lead physician. An NP can prescribe medications if she has prescriptive authority from the Joint Boards of Nursing and Medicine. It is becoming more and more common to see the NP (and not her team lead physician) on routine visits. By 2025, NPs are expected to represent almost one-third of the family practice workforce.
A recent study by The Doctors Company found that malpractice claims against NPs and primary care physicians (PCPs) are very similar.  The study analyzed 67 claims against NPs and 1358 claims against PCPs in family medicine and internal medicine practices. Of the claims against NPs, 48% dealt with diagnosis (failure to diagnose, delay in diagnosis, or wrong diagnosis).  Similarly, of the claims against PCPs, 41% dealt with diagnosis.  Of diagnosis-related claims, 42% of those against NPs involved cancer, while 32% of those against PCPs involved cancer.  The top three alleged patient injuries were the same for NPs and PCPs: death (33% of claims against NPs; 40% of claims against PCPs); adverse medication reaction (22% of claims against NPs; 15% of claims against PCPs); and malignancy (22% of claims against NPs; 15% of claims against PCPs).
These findings suggest that NPs and PCPs face the same challenges and can benefit from the same best practices. Most importantly, NPs should appreciate the liability risks associated with diagnosis and the prescription of medications. From a liability standpoint, the NP should clearly define and explain her role to her patients to eliminate any confusion regarding the NP's experience, qualifications, or limitations. From a regulatory standpoint, the NP must maintain a copy of the practice agreement she shares with her team lead physician, and the practice agreement must contain: a description of her prescriptive authority; an authorization for categories of drugs and devices she is authorized to prescribe; the name and signature of the team physician with whom she practices; the name and signature of the secondary physician if the lead physician is unavailable; guidelines for communications between the NP and the physician; and the process for appropriate physician input in complex and emergent cases.
---
This blog is made available by Goodman Allen Donnelly for general information, and does not constitute legal advice. By reading this blog, you understand that there is no attorney-client relationship between you and the firm. This blog should not be used as a substitute for competent legal advice from a licensed professional attorney in your state.