Daniel Krasnegor and David Lowenstein, attorneys in the firm's Veterans Benefits Group, have been named to The Veterans Consortium Pro Bono Program's National Volunteer Corps Honor Roll. The Veterans Consortium is a non-profit organization created to provide pro bono legal representation before the U.S. Court of Appeals for Veterans Claims.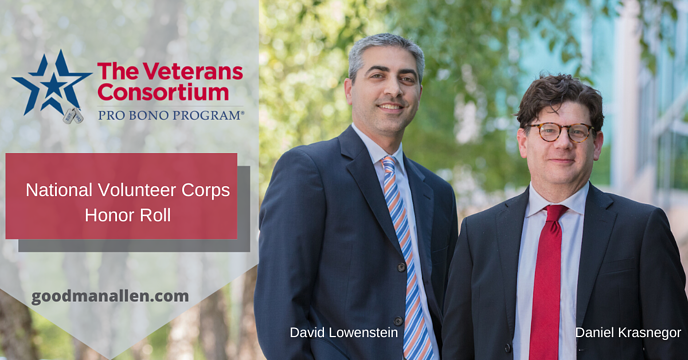 TVC's most recent Annual Report recognizes the commitment of individual attorneys, law firms, corporate legal teams and academic programs for their role in fulfilling the Consortium's mission to serve veterans and their families. For over 26 years, TVC has been providing legal services in federal venues to veterans and their families, caregivers, and survivors, no matter where in the world they live. The TVC's National
Volunteer Corps℠, Mission Partners, and dedicated staff have handled more than 50,000 legal requests from veterans and their loved ones, trained over 4,300 attorneys from law firms and corporate legal departments across the country, and helped law schools establish and sustain veterans law programs or legal clinics,
TVC operates the federal Pro Bono Program for veterans—created by Congress in 1992—on behalf of the U.S. Court of Appeals for Veterans Claims, through a competitively-awarded LSC grant. The program recruits volunteer attorneys and provides specialized training, mentors, case materials, and other focused resources to enable and enhance their success.