by Nicholas Jimenez and Wythe Michael
The 21st Century Cures Act was enacted in 2020 to improve the accessibility and potability of Electronic Health Information (EHI). As the successor to the HITECH Act of 2009, the Cures Act aims to address the perceived lack of accessibility and portability of EHI by promoting improvements in access to EHI by both healthcare providers and software developers. The Cures Act contains provisions that prohibit "information blocking," a term used throughout the statute to refer to any action taken by a healthcare provider that restricts access to EHI by patients or third-party software providers. The provision of the Cures Act prohibiting information blocking was originally set to go into effect on November 2, 2020. This deadline was extended in light of the impact of the COVID-19 pandemic on resources in the healthcare industry. Now, the deadline for initial compliance is April 5, 2021.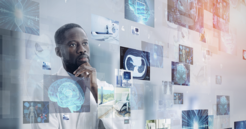 If that seems like a difficult deadline to meet, there is some good news: compliance with the Cures Act's information blocking provisions includes a grace period for certain types of data. From April 5, 2021, through October 6, 2022, only the data elements represented in the USCDI standard are subject to compliance with the information blocking provisions of the Cures Act. After the grace period, additional categories of EHI will become subject to the Cures Act requirements.
There's a little more good news. The Cures Act requires EHI to be accessible but does not require that the healthcare provider permit access in the manner demanded by the person/entity requesting access. Put another way: you can decide how you want to produce the requested information. This gives healthcare providers some flexibility in how they permit access to EHI. To further help healthcare providers in complying with the Cures Act, there are several exceptions to the applicability of the information blocking provision – including exceptions to prevent harm, maintain patient privacy and security, and an exception aimed at situations where compliance is simply infeasible due to the technology available to the healthcare provider.These exceptions may be your best friend in the short-term effort to become Cures Act compliant because software and app developers have an entirely different deadline for compliance with the Cures Act. This means that there may not be dedicated features built into your practice's electronic health record system in the near future, and support from your software provider may not be available by April 5, 2021. If your practice has not developed a Cures Act compliance strategy, now is the time to do so. The sooner your team understands what the Cures Act is, and how to address requests for information, the less likely you will be subject to a regulatory enforcement action.
If you have questions about Cures Act requirements or deadlines, please contact Nicholas Jimenez or Wythe Michael.
---
This blog is made available by Goodman Allen Donnelly for general information, and does not constitute legal advice. By reading this blog, you understand that there is no attorney-client relationship between you and the firm. This blog should not be used as a substitute for competent legal advice from a licensed professional attorney in your state.