How will our nurses come out of the COVID-19 pandemic?…. Stronger Than Ever
By Eileen M. Talamante, Esq., R.N. 
In 2019, long before COVID-19 was declared a global pandemic, The World Health Organization (WHO) designated 2020 as "The Year of the Nurse and Midwife." In addition, the American Nurses Association (ANA) has extended their annual "Nurses Week" to take place for the entire month of May 2020.
These designations are not surprising. For years, annual polls have routinely placed nurses on the top of the list of most trusted professions. However, as a nurse and as an attorney who represents nurses all over the Commonwealth of Virginia, I can tell you that the public good will we see towards nurses — in annual surveys or in the overwhelming outpouring of support during the COVID-19 crisis — is not what all nurses experience on a consistent basis in their day-to-day work lives.
Many of our nurses feel discriminated against, too-heavily scrutinized by patients and employers, and used as scapegoats. They often are under-compensated, victimized by under-staffing, and burdened by countless other important issues affecting both their personal and professional lives. In addition, dedicated and conscientious nurses are routinely the subject of complaints made by employers, patients, or patient family members to the Virginia Board of Nursing— significantly more so than any other group of health care licensees. Furthermore, the prevalence of burnout, caretaker fatigue, mental health issues, and/or substance abuse among nurses has been increasing over the years, sparking a revolution of self-care and wellness books, coaching, blogs, and other initiatives geared specifically towards promoting nurse wellness.
Sadly, the struggles nurses face have now been magnified and complicated by COVID-19. Nurses who were already vulnerable to mental health and substance use issues are undoubtedly more at risk. At the same time, self-care, a known weakness for many nurses, is more difficult to put into practice during the isolation of a pandemic shutdown. Who would have ever imagined that adequate testing and PPE would be at the top of the hierarchy of self-care needs, rather than the luxury of a visit to a now-closed spa or a gym?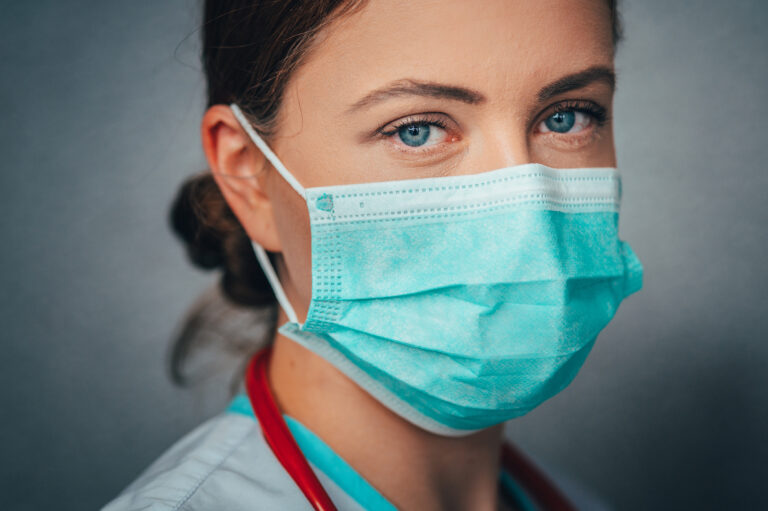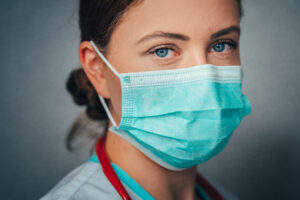 COVID-19 has presented a myriad of unique issues for nurses that are evolving on what seems like a daily, if not hourly, basis. This is particularly true in the "hot spots" of the virus, where more and more nurses are reporting that they are being pressured to work in unsafe conditions (for both patients and nurses) and retaliated against when they speak up regarding the lack of testing and PPE. We have nurses that are pregnant and/or have underlying conditions and risk factors working without adequate PPE. Some are even being asked to work outside their scope of practice.
During this crisis, nurses are taking care of patients for extensive hospitalizations, while the patients are physically isolated from their loved ones. Much of what we have learned about addressing the emotional needs of patients and family members during end-of-life care has been turned upside down, almost overnight, by this virus. Technology has helped to some extent, allowing the patients and family members to connect via Facetime, Zoom, etc. However, technology is no substitute for the touch of a loved one's hand and physical presence at the bedside, and the very primitive and spiritual need we have to be physically close to our loved ones during illness and dying. It is completely counterintuitive, heart-wrenching, and emotionally traumatic for our nurses to have to physically separate the dying from their families, then try to fill a family member's shoes during a patient's extended illness and last breaths.
Outside of the workplace, many nurses are single parents trying to juggle home-schooling their children, and/or affording safe in-home childcare while they work. Some stay in hotels away from the comfort of their families, their main support system, for extended periods of time. Amidst all of this, there are nurses who are being sued for a change in child custody based on the risk of exposing their child to COVID-19. So, while a nurse is at work saving someone's mother or father, he or she is at risk for losing custody of their own children for doing so.
By now, you may be thinking… oh my goodness, our poor nurses, what will they do? How will they cope?
Short answer, they got this. Nurses are not victims. I believe nurses will get stronger, more empowered and resilient every day. It's what nurses do. They're the firefighters heading into the fire when others are running away. Being a nurse is more than a job, it's a calling to care for others. Personal sacrifice has been, and will always be, a part of the job. That being said, there is simply no denying or sugarcoating the unprecedented challenges created by COVID-19. This virus has and will, for the foreseeable future, test our nurses and the nursing profession, at a level never seen before on U.S. soil. In addition to caring for their patients, it's more important than ever for nurses to take care of themselves (self-care!), protect their license and legal rights, stay informed, and advocate for themselves and other nurses at the local, state, and national level.
Self-Care:
Nurses must do everything possible to take care of themselves first, and get the support they need from others. Below are some suggestions for nurses to consider:
Start with the basics. Get adequate sleep and hydration, and maintain a healthy diet and exercise routine. Get a bit of sunshine and fresh air every day. Walks outside and online exercise classes can be done while adhering to social distancing, and are a good substitute for going to the gym for the time being.
Maintain a support system of those you trust and can talk to during the isolation. Use facetime, zoom, or outdoor social distancing to stay connected.
Make use of the increased availability of telehealth for routine medical needs, including mental health needs. A nurse should also have a clear understanding of any risk factors and underlying medical conditions that may make the nurse more vulnerable to COVID- 19.
Delegate and ask for help.
Self-care now includes access to PPE and testing. Advocate for a safe working environment with adequate supplies of both. This is not only critical for both you and for your patients, but also for containing the spread of this virus. Document any possible exposure you have to the virus, as well as your attempts to obtain PPE and seek testing.
Licensure Issues and Other Legal Rights/Concerns:
Seek experienced legal counsel for assistance regarding employment or licensure issues, or any other questions regarding your legal rights including issues related to COVID-19 such as PPE, testing, and retaliatory terminations.
Purchase individual insurance coverage (which covers legal fees for defending a Board complaint).
Stay informed and up-to-date with all applicable laws and regulations pertaining to the practice of nursing in Virginia (or any other state you work as a nurse), including guidance and emergency regulations, and temporary waivers related to COVID-19.
Become familiar with the wide breadth of resources, advocacy, and support provided by state and national nursing organizations.
Stay Connected and Informed:
Below are several important links to agencies, associations, and organizations every nurse in Virginia should become familiar with:
In sum, COVID-19 will undoubtedly continue to bring unprecedented hardship, particularly to nurses battling on the front lines. It has never been more important for nurses to do what they can to take care of themselves, advocate for their rights, and connect with the support systems and resources available to them. Despite the pain, nurses will prevail. There is no question that nurses are the heart and soul of health care systems all over the world. Nurses have been, and always will be, "essential." This was true before COVID-19, and it remains true today. Some would argue that the current and overwhelming show of support for nurses is long overdue, and that it's unfortunate that it took a pandemic for us to get here. The question remains as to whether the current levels of support and recognition of our nurses will continue after this pandemic is over, though I can assure you that our nurses will continue to do what they do, regardless. They are not in it for the accolades, but it sure has been wonderful to observe the level of public support being expressed to our nurses during COVID-19.
It is hard to escape the haunting irony of the WHO choosing 2020 as "The Year of the Nurse," given what nurses around the globe are now facing. Bottom line: many of us have always understood that our nurses are everyday heroes. For some, it took COVID-19 to serve as a reminder. Let's just hope none of us will ever forget.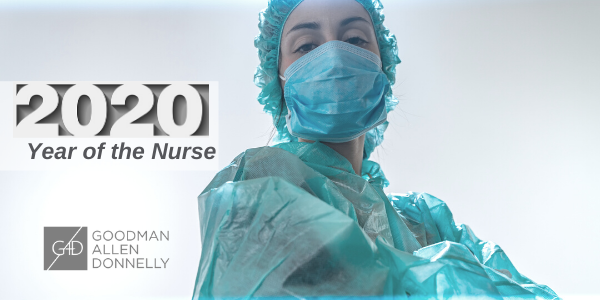 ---
This blog is made available by Goodman Allen Donnelly for general information, and does not constitute legal advice. By reading this blog, you understand that there is no attorney-client relationship between you and the firm. This blog should not be used as a substitute for competent legal advice from a licensed professional attorney in your state.