It's race season in Virginia! The firm has participated in three 5k races recently in Norfolk, Charlottesville and Richmond. Not everyone who entered the races is a runner, but we love to support the beneficiary organizations for these events while spending quality time together outside the office -- getting some exercise!
Staff and family members from our Norfolk office participated in the Norfolk Corporate 5k in May. Held in beautiful Harbor Park, this annual event brings the Hampton Road's corporate community together to participate in friendly competition and camaraderie. Beneficiary for this race was the YWCA of Hampton Roads.
On June 1, the firm's Veterans Benefit Group greeted a glorious Blue Ridge Mountain sunrise as a sponsor of the 4 Our Freedom 5k. Organized by ParadeRest Virginia, the race benefited Charlottesville area non-profits with a focus on assisting veterans: Living Free, Operation First Response, Project Healing Waters Fly Fishing and Wintergreen Adaptive Sports.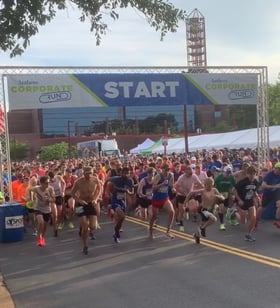 On June 6, the firm sponsored a team in the Anthem Corporate Run, a 5k race dubbed "Richmond's Biggest Office Party". More than 3500 participants took to the roads of the Innsbrook Office complex for the race, followed by a lively gathering at the finish line. Beneficiary for this event is Greater Richmond Fit4Kids, a non-profit organization dedicated to improving children's health and reducing the prevalence of childhood obesity in the Richmond region.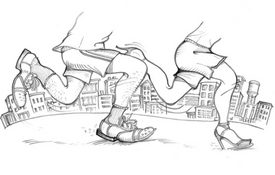 We're fortunate to have so much fun together while supporting important causes in our communities!