By Thea Pitzen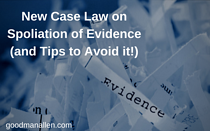 In December 2017, the Supreme Court of Virginia decided a case of first impression as to whether spoliation of evidence requires an element of "bad faith" in order to warrant remedial action – such as an adverse inference instruction – by the trial court. Spoliation refers to the destruction of evidence or the failure to preserve evidence. It occurs when a party is aware: (1) that there is either pending litigation or probable future litigation, (2) that the pending or probable litigation involves evidence in that party's custody or under its control, and (3) that if that evidence is destroyed or not preserved, it will interfere with the other party's ability to prove its claim. Though the Virginia Supreme Court has certainly addressed spoliation of evidence in the past, in Emerald Point, LLC v. Hawkins, it considered for the first time whether the trial court may properly give an adverse inference instruction to the jury where there was no "bad faith" associated with the loss of the evidence.
The Emerald Point Case
Emerald Point, LLC was a premises liability case in which four co-tenants of an apartment unit suffered injuries as a result of exposure to carbon monoxide gas in the apartment. The tenants sued the property manager and the owner, alleging that the carbon monoxide exposure was the result of faulty maintenance of the furnace and the associated vent and flue system. After a four-day trial in May 2016, the jury returned its verdicts for the tenants, awarding three of them $200,000 each and awarding the fourth, more severely injured tenant $3,500,000 in damages. The Supreme Court granted an appeal on numerous assignments of error, including whether the trial court erred in granting an adverse jury instruction based on the disposal of the furnace.
The furnace in question had been removed from the tenants' apartment on January 3, 2013, then stored in a maintenance bay for over a year, and ultimately disposed of well before the tenants filed their lawsuit on November 13, 2014. If a trial court finds that spoliation of evidence has occurred, it can take a number of remedial measures. One such measure is to grant an adverse inference jury instruction, which is what the trial court did in this case. Specifically, the court instructed the jury – over the landlord's objection – that:
If a party has exclusive possession of evidence which a party knows, or reasonably should have known would be material to a potential civil action and the party disposes of that evidence, then you may infer, though you are not required to do so, that if that evidence had been available it would be detrimental to the case of the party that disposed of it. You may give such inference whatever force or effect you think is appropriate under all the facts and circumstances.
The trial court noted that the landlord "did nothing in bad faith" in disposing of the furnace.
Ultimately, the Supreme Court held that: "the evidence must support a finding of intentional loss or destruction of evidence in order to prevent its use in litigation before the court may permit the spoliation inference." (emphasis added). The Court agreed with the Texas Supreme Court's assessment in another case that: "[t]o allow such a severe sanction as a matter of course when a party has only negligently destroyed evidence is neither just nor proportionate." The Court found that the advisory notes to Federal Rule of Civil Procedure 37(e)(2)(B) provided helpful insight:
Adverse-inference instructions were developed on the premise that a party's intentional loss or destruction of evidence to prevent its use in litigation gives rise to a reasonable inference that the evidence was unfavorable to the party responsible for loss or destruction of the evidence. Negligent or even grossly negligent behavior does not logically support that inference. Information lost through negligence may have been favorable to either party, including the party that lost it, and inferring that it was unfavorable to that party may tip the balance at trial in ways the lost information never would.
Finally, the Court emphasized that in a case where a spoliation instruction is being considered, the trial court must make a "highly fact specific" determination as to whether a party "intentionally failed to preserve evidence in order to prevent its use in litigation where the party knew or reasonably should have known under the totality of the circumstances that the evidence would be material in a pending or reasonably probably litigation[.]"
Tips for Health Care Professionals
Although this decision should prevent an adverse inference instruction from being given in a case where evidence has been destroyed as a matter of routine practice, for example, with no bad faith, potential litigants should still take every precaution to avoid spoliation of evidence. Courts can enter a variety of sanctions for spoliation of evidence, from attorney's fees incurred in moving for sanctions, up to and including dismissal of a case. Lawyers and parties can be liable for those sanctions.
For health care providers and risk managers, there are a number of proactive steps that can be taken to avoid these issues if litigation should occur. First, always ensure that medical records are accurate, complete, and documented as close in time to the treatment as possible. Second, be mindful of documents or items that might become material evidence in potential litigation. If an adverse event occurs, in addition to the medical record, things like medical devices should be carefully preserved. If a product cannot be obtained or preserved (such as an implanted medical device), focus on preserving things like photographs, surgical videos, x-rays, MRIs, and CT scans, in addition to the medical records.
When litigation is anticipated, risk management and legal counsel should be consulted promptly, and a "litigation hold" should be promptly put into place. A litigation hold will direct employees to preserve and refrain from destroying or modifying certain potential evidence. Risk managers should work quickly to identify all of the employees and potential evidence that falls within the scope of the litigation hold. While the medical records are often critically important, do not overlook things like surveillance videos, photographs, incident reports, electronic communications such as email and text messages, and other tangible items. Finally, ensure that the litigation hold is distributed to all employees with control over any piece of potential evidence and that it clearly communicates what must be preserved.
---
This blog is made available by Goodman Allen Donnelly for general information purposes only and does not constitute legal advice. Nothing on this blog or any associated pages, documents, comments, links, or other communications should be taken as legal advice for any individual case or situation. This blog should not be used as a substitute for competent legal advice from a licensed professional attorney in your state. By reading this blog, you understand that there is no attorney-client relationship between you and the firm.