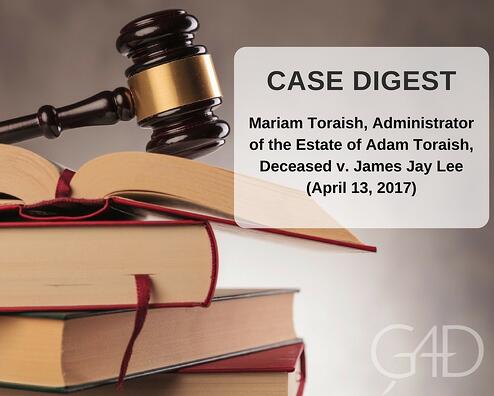 by Taylor Brewer
Facts
In May 2012, Dr. Lee, an otolaryngologist, performed outpatient surgery on five-year-old Adam Toraish. Adam was discharged home from the hospital on the same day and was found unresponsive by his mother later that afternoon. He was pronounced dead at the hospital.
During the autopsy, the pathologist identified the cause of death as "cardiac arrhythmia of unknown etiology." The pathologist's report noted that Adam was a product of a consanguineous marriage. Adam's parents are first cousins and he had two siblings who died of genetic problems.
Adam's mother filed suit against Dr. Lee and his practice, alleging that Dr. Lee violated the standard of care by failing to order that Adam be monitored after the surgery. The Fairfax County jury returned a verdict in favor of Dr. Lee and the Supreme Court granted Toraish the appeal.
Holdings
1. Dr. Boyd was improperly qualified as an expert witness because his opinion was based upon an assumption with no basis in fact.
Dr. Lee offered the expert testimony of Simeon Boyd, MD, a pediatric geneticist, to opine that Adam died from Brugada syndrome, a genetic disorder. Dr. Boyd formed this opinion by excluding all likely causes of death and by relying upon the expertise of others, such as the pathologist. However, Dr. Boyd admitted on cross that he was not qualified to determine whether postoperative respiratory failure could have caused Adam's death. The plaintiff objected to Dr. Boyd's opinion, arguing that his differential diagnosis was not based on an adequate factual foundation. The testimony was permitted.
The Supreme Court held that Dr. Boyd was not qualified to testify on the cause of death because his opinion was based upon an assumption that had no basis in fact. The court noted that the pathology report left respiratory compromise open as a possibility for the cause of death. Therefore, respiratory compromise was not excluded by Dr. Boyd or by any source upon which he relied.
2. Dr. Lee's response about what he would have done had he known certain facts was properly admitted because it was factual testimony based upon his personal knowledge and experience.
At trial, Dr. Lee was asked whether he would have recommended the surgery be performed on an outpatient basis if he had known of the consanguineous marriage or that Adam's siblings had died of genetic problems. He replied, "Knowing that there could be a genetic defect, there would be no way that I could recommend any surgery at that time." The plaintiff objected, arguing that this was expert testimony and that Dr. Lee had not been qualified as an expert. The objection was overruled.
The Supreme Court held that Dr. Lee's response was proper because it was not expert opinion. A defendant in a medical malpractice action is entitled to give factual testimony regarding the circumstances that impacted or would have impacted his decision to perform surgery. Dr. Lee did not testify about what should have been done by a reasonably prudent otolaryngologist; rather, he only stated what he would have done, from his personal knowledge and experience.
Read the complete opinion here.
---
This blog is made available by Goodman Allen Donnelly for general information, and does not constitute legal advice. By reading this blog, you understand that there is no attorney-client relationship between you and the firm. This blog should not be used as a substitute for competent legal advice from a licensed professional attorney in your state.