The attorneys at Goodman Allen Donnelly recognize the importance of pro bono services and handle a myriad of issues for clients who cannot otherwise afford legal work.  Last year, GAD lawyers handled guardianship proceedings and obtained divorce decrees for underprivileged individuals; filed organizational documents for 501(c)(3) non-profits; appeared in court to seek protective orders for domestic violence victims; and advised local charities.
The firm also participates in Firms in Service, a collaborative effort by firms and corporate legal departments to increase the availability of pro bono legal services for the underserved.  Through its membership in Firms in Service and its pledge to heighten awareness of the need for pro bono work, the firm voluntarily reports its attorneys' pro bono hours. In 2017, the 16 lawyers in the Richmond office alone contributed 300 hours towards pro bono work.
The firm also supports students at the University of Richmond School of Law who are engaged in pro bono services.  GAD lawyers handling pro bono divorces often work with law students who are interested in family law and who have been trained on the pro bono divorce program.   The students help the lawyers draft pleadings and communicate with pro bono clients and the courts.  In May, the firm will help sponsor the Recognition Ceremony for students at University of Richmond School of Law who performed 120 or more cumulative hours of qualifying pro bono service or public interest during law school.
Goodman Allen Donnelly believes not only that it is an obligation of the profession to devote time to pro bono services, but also that these services enrich the lives of all involved.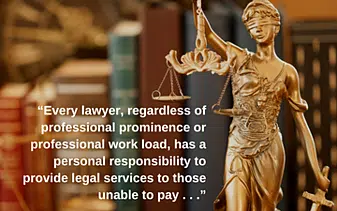 Comments to Rule 6.1 of the Virginia Rules of Professional Conduct 
---
This blog is made available by Goodman Allen Donnelly for general information, and does not constitute legal advice. By reading this blog, you understand that there is no attorney-client relationship between you and the firm. This blog should not be used as a substitute for competent legal advice from a licensed professional attorney in your state.